A little over a year ago, NABC fellow Roninspoon and I found occassion to meet for a drink. Circumstances dictated a cigar bar, just off the piazza in Italy, or Las Vegas' simulacrum of the same1. It was near closing time, the AOR band was seemingly enjoying themselves, and the bartender came out to take our order.
Roninspoon ordered a bourbon on rocks,2 I ordered a martini. To which the bartender asked, "What kind of vodka would you like for that, sir?"

"Gin," I replied dryly, "the gin sort of vodka."3

I have always been a gin man. There is something about the clarity that gin imparts to the mind that seduces me. My favorite drink is the Aviation. I love a half-dozen oysters with a martini in hand. Let the cry echo to the heavens, GIN GIN GIN!
Tonight, for Mixology Monday 21, hosted by Jay at Oh Gosh!, we formalized a couple of recipes that came out of a gin tasting4 we organized this weekend. Each of the two are variations on classic drinks. Each are equally wonderful before dining or late at night.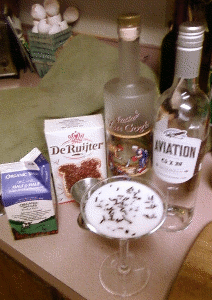 The Alexander is a forgotten classic, and generally recalled as based on brandy. But as it happens, the "Brandy Alexander" names the base spirit because it is a qualifier. The original Alexander was a gin drink composed of gin, crème de cacao, and cream. With the heady scent of cacao nibs and coffee beans from Van Gogh Dutch Chocolate vodka and the rich spices of Aviation Gin, the Alexander becomes a dry cocktail, and delicious.
the Dry Alexander
In a mixing glass, pour over ice
◇ 1 oz half and half,
◇ ¾ oz Van Gogh Dutch Chocolate Vodka,
◇ 1½ oz Aviation Gin.
Shake. Strain into a cocktail glass.
Garnish with a dusting of dutch processed cocoa and a pinch of ground cloves. Or chocolate jimmies. Or a lemon twist.
In his 1998 book Cocktail, Paul Harrington, consulting alchemist to Wired Magazine, gives the recipe and backstory to a Chartreuse cocktail, The Drink Without a Name. It is a very fine cocktail, but our recent tasting of Rangpur Gin5 suggested that something similar might be formulated a slightly different way.
the Colorless Green Idea
In a mixing glass, pour over ice
◇ 2 oz Tanqueray Rangpur Gin,
◇ ¼ oz Chartreuse (green).
Shake. Strain into a cocktail glass.
Garnish with a twist of lime peel.
The sweet orange lime and juniper notes in the gin provide a foundation for the herbal complex of the Chartreuse. Such a simple combination of two ingredients blossoms into a limpid, vertiginous cocktail.

1. The "La Havana Cigar Bar", on the Via Brianza, in beautiful MonteLago, on Lake Las Vegas, Nevada.
2. Blanton's, in fact.
3. Hendrick's was then demanded.
4. Ten gins were assessed by five tasters, who then went on to taste two maraschinos and mix drinks from the table leavings. We will blog about this adventure later this week.
5. NABC member OrangeJulius sat down with a bottle of Tanqueray Rangpur Gin and gave his initial assessment at the height of gin and tonic season.