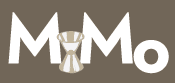 A rum drink with vermouth? Incredulous.
All we have is rum. We'll just have to make do. Pragmatic.
As long as I don't end up wearing it. Declarative.
This drink is one that I discovered quite by accident in the small print at the back of Paul Harrington's Cocktail: The Drinks Bible for the 21ST Century. Such little research as I can apply with the few volumes I have at hand turns up no listing. And CocktailDB, bless their hearts, lists sweet vermouth.
I had been looking for a pre-dinner drink to serve as the charger to a main course of petrale sole poached over a bed of fennel, shallots, and celery. This served admirably.
The accident? yes, I was out of gin. Imagine my embarrassment.
the Fig Leaf
In a mixing glass, pour over ice
◇ 1½ oz light rum,
◇ 1 oz dry vermouth,
◇ ½ oz lime juice, and
◇ a healthy dash of Angostura bitters.
Stir. Strain into a cocktail glass adorned with a runner of lemon thyme wound around the stem.
I've enjoyed Mt.Gay rum in this cocktail, but my recent introduction to Sea Wynde made me think that it might be stellar in this context. The vermouth must be in fine state; if it is even a little old, ditch it and make a daiquiri instead. The Angostura bitters is the rug that brings the room together.
This drink is presented as a part of Mixology Monday, hosted this month by TraderTiki. Check out his wrap-up post for thirty-some other rum drinks and reviews!